Lieux Communs - Gemeenplaatsen
[ 2003 - 2009 ] 8 meters installation : 4 digital pigment prints on Hahnemühle paper framed under glass (175x110cm), gathering 378 images + 1 map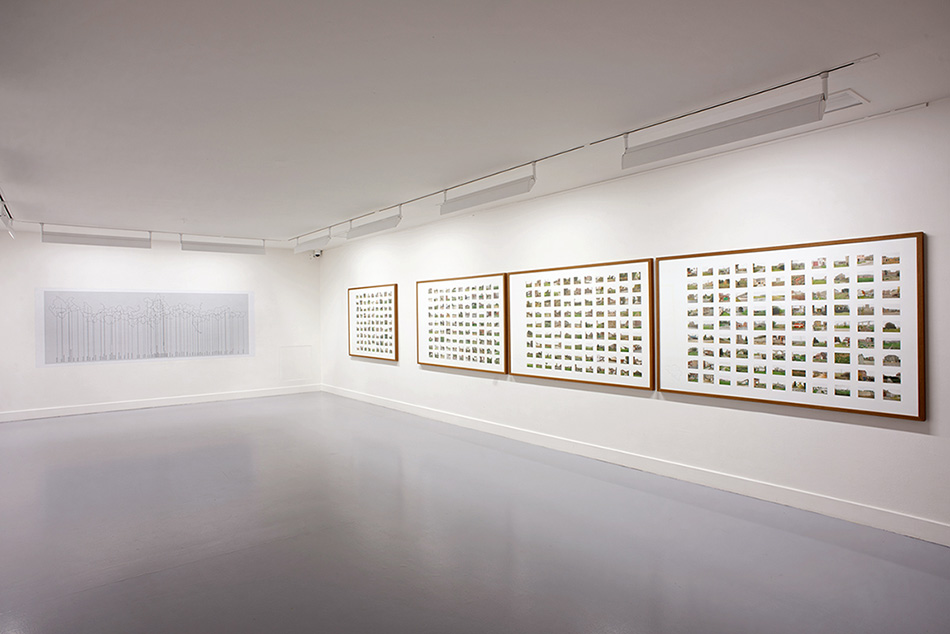 Lieux Communs - Gemeenplaatsen - solo exhibition MuHKA (Antwerpen, 2021)

When I started with his project, I had an overwhelming desire to present the complexity of a country's landscape through photographic images. Could a limited number of images render the spirit of a territory and its population? I wanted to give a new definition to the 'landscape', and go beyond an approach that would only be aesthetic. To succeed in including all the ingredients of banality in my project, I chose to avoid the most expected places. I would show Belgium without its Gothic cathedrals, without its large squares, its seaside resorts,..., and would only be interested in its most functional spaces, mostly in the suburbs. Taking all this into account, I have determined a radical working method. When the weather allowed me to work under a uniformly grey sky, I would walk along the linguistic boundary. Would there be a way to restore the country's image by focusing myself on this symbolic demarcation line? The work is presented in the form of a grid, gathering hundreds of images. They can be seen as a whole, but they can also be appreciated in detail, like in Georges Pérec's book, La Vie Mode d'Emploi.

map of my way through the country, on the linguistic border

The subjects photographed are very diverse. Apart from the more global views that embrace a broader environment, I am interested in the articulation of spaces, in the different heterogeneous layers that compose it. I observe how the individual can interact with the collective (archtitecture vs. urban planning), how the territory is marked by its time and its users. But beyond these subjects, it is for me an opportunity to revisit various streams of documentary photography. The project is punctuated by a number of explicit references to photography from the Düsseldorf artists to the New Topographers, from Walker Evans to Jean-Marc Bustamante.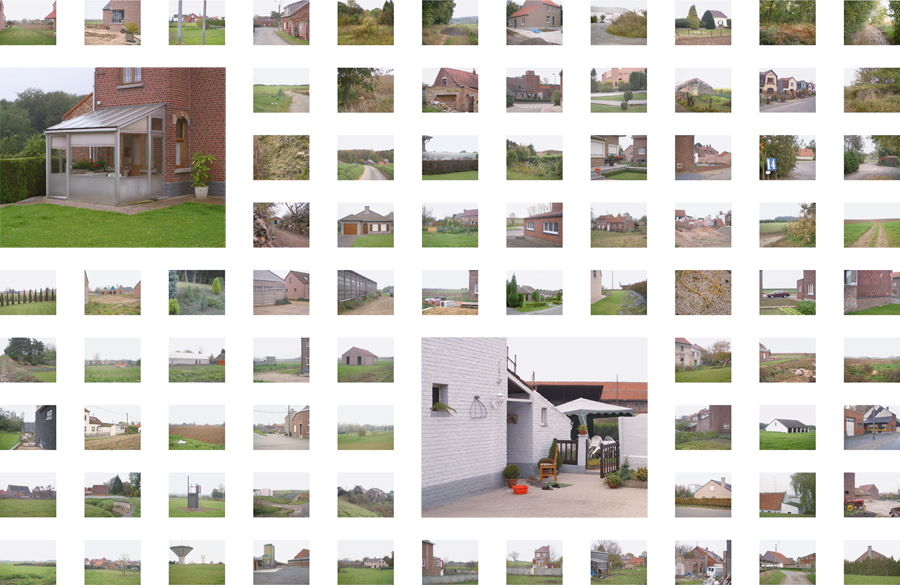 layout for the catalogue edited by Lannoo in the context of the exhibition by Palais des Beaux-Arts (Brussels) in 2011
« As a consumer every man uses art. Art in action for him is art in every phase of his exsience - the selection of clothes, houses, actions, tools, and utensils. He uses aestetics much as the artist does, although in less concentrated form. His medium he obtains from stores, manufacturers, and builders. His composition is his environment. As he collects and arranges objects for his use he makes a visualpattern of his life. The way he arranges his house and the way he equips his communicty make a picture so fundamentally art that it has always been the really great subject for the painter's canvas and the musician's score. To the consumer, art is a daily action involving the most fundamental human needs. »
Daniel S. Defenbacher, Art in Action (1940)