Lieux Communs - Gemeenplaatsen
[ 2003 - 2009 ] 8 meters installation : 4 digital pigment prints on Hahnemühle paper framed under glass (175x110cm), gathering 378 images + 1 map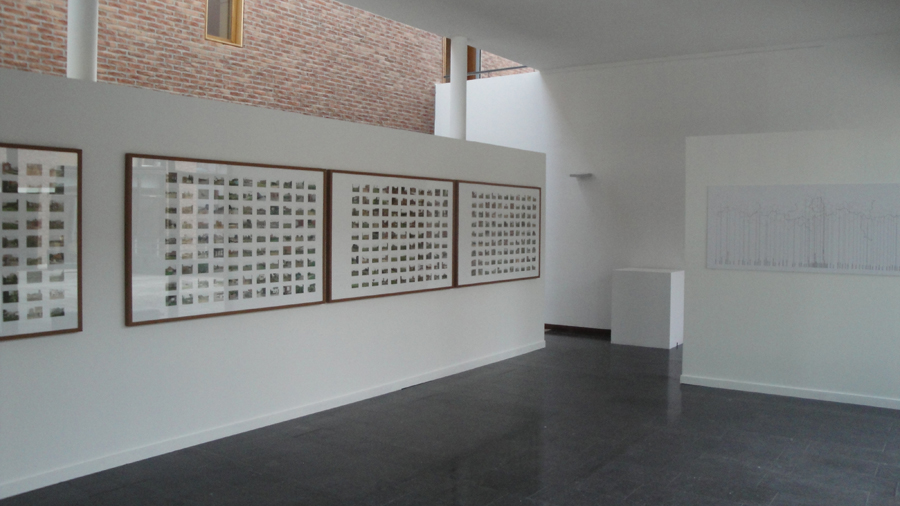 Lieux Communs - Gemeenplaatsen - solo exhibition Centre International pour la Ville l'Architecture et le Paysage (Brussels, 2010)

When I initiated this series in 2003, I was very mich interested in the confrontation between myself and the banality of my own country. I did not only search for making pictures in the country. What I was really looking for, was finding visual solutions that would give me the opportunity to elaborate a representative panorama of the whole territory.

How could I explore my own country and go beyond everything I already knew – or what I thought I knew – about it ?

I decided to apply certain conceptual rules :

I was looking for some slowness, so I chose to cross the country by walking and be in a state of slow responsiveness.
I was looking for weather conditions that would give a comfortable reading/comprehension of my images and that would reduce the presence of shadows. So I chose to walk across the country under a perfect dry and grey sky, as Bernd and Hilla Becher would have done.
I wanted to avoid remarkable places (gothic churches, contemporary projects, historical facilities...). In order to ask myself what would remain if we could forget those extremes patterns, and to only focus on the most representative places only, I needed to stay far from the cities centres. It is only in the suburbs, that one can witness gradual changes that are more relevant for those eager to learn about our time, our urban habits.
I wanted to find a way to present my work that would reinforce its serial aspect. The viewer would first see a mosaic in which each component would have the very same weight. Any too dominant image would be drawn down, and any weaker image would be supported by the presence of the others. A kind of normative phenomenon could also be created by working with groups of images. If one is to ask a group of persons to describe their favourite colour, the result would be a huge range of shades, but if by mixing them all, the result would surely be a kind of dirty grey. It's exactly this grey I was looking for.
I decided to play with scales and to frequently vary points of views. In some views, gaze was to stay wide in order to observe collective spaces, urbanism. In other views, viewer's attention required a focus on small details revealing for example living conditions of house inhabitants. This variation of scales and distances allowed a range of interpretations. Some content could be useful for sociologists, other for urban planners, philosophers, ... At any given time, there needed to be a kind of micro- & macro- vision simultaneously, where not only. The elements but also the systems of elements could be viewed. As a result, the viewer could make his own way in between several types of images.
I was more interested by suburbs and I was looking for the best way – in the literal meaning of 'way' – to explore the country. I wanted to show rural areas and show how Brussels became a mutating and elastic city going far beyond the ring/highway. I also wanted to have a large collection of the most common typologies.
So I decided that the breadcrumb of this project would be the linguistic border. The idea of using this border as a path appeared straight away highly interesting and absurd. After all, this political border has little to do with geographical observations . I also was attracted by the fact that the border wouldn't be observable. It could serve a central element in my work and stay purely invisible at the same time. Moreover, this anti-hero path could in the meantime be a fantastic way to dig into banality. Naturally afterwards, some people with narrow ideological views were disappointed not to see any tension or ideological claim in this project, not even a comparison between North and South... !

map of my way through the country, on the linguistic border

As you can imagine, my work is really open ; it's not an advocacy for or against ideas. Instead of carrying any ideology, this series is more like a sponge absorbing a liquid : it's a starting point for essayists. It's a kind of open documentary. It gathers images that are very similar to the impressions of someone who is lost on our roads for hours with a non-reacting GPS for hours, anywhere in Belgium. I really like for example when someone comes to me and says: 'yes, I recognize this place on your picture. It's in Vilvoorde, right ?' and I can answer :'Not at all, this is near Waremme !'. Than I have the feelings I've reached my aim : being representative of a kind of normality in its most basic typologies.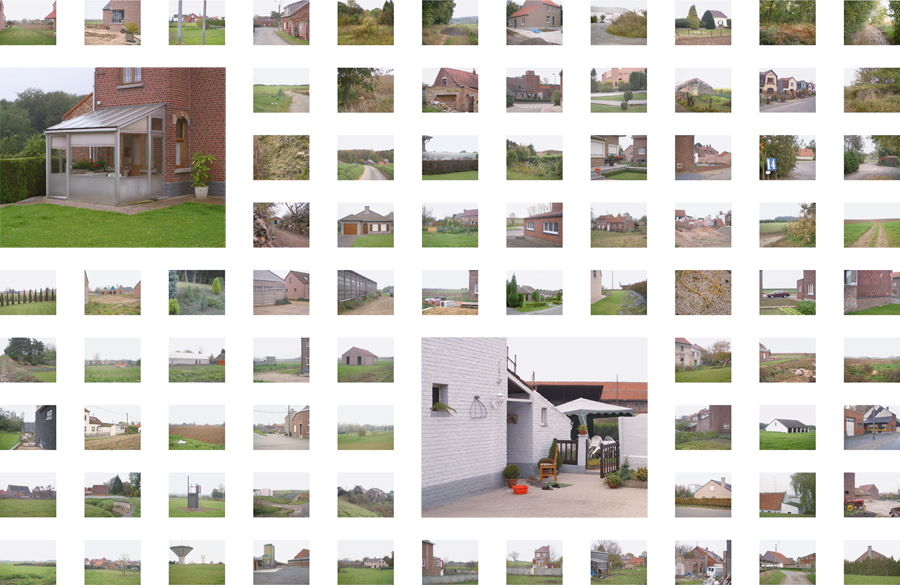 layout for the catalogue edited by Lannoo in the context of the exhibition by Palais des Beaux-Arts (Brussels) in 2011
« As a consumer every man uses art. Art in action for him is art in every phase of his exsience - the selection of clothes, houses, actions, tools, and utensils. He uses aestetics much as the artist does, although in less concentrated form. His medium he obtains from stores, manufacturers, and builders. His composition is his environment. As he collects and arranges objects for his use he makes a visualpattern of his life. The way he arranges his house and the way he equips his communicty make a picture so fundamentally art that it has always been the really great subject for the painter's canvas and the musician's score. To the consumer, art is a daily action involving the most fundamental human needs. »
Daniel S. Defenbacher, Art in Action (1940)