Portrait of a Landscape
[ 2012 - 2016 ] installation for 72 screens , gathering 2637 x 1min static video shots
« Sublime we name an object, at whose conceptualization our sensuous nature feels its limits, but our rational nature its superiority, its freedom from limits; in the face of this we thus derive physically our brevity, which we surmount but morally, i.e. through ideas. »

Friedrich Schiller, On the Sublime: Toward the Further Development of Some Kantian Ideas (1793)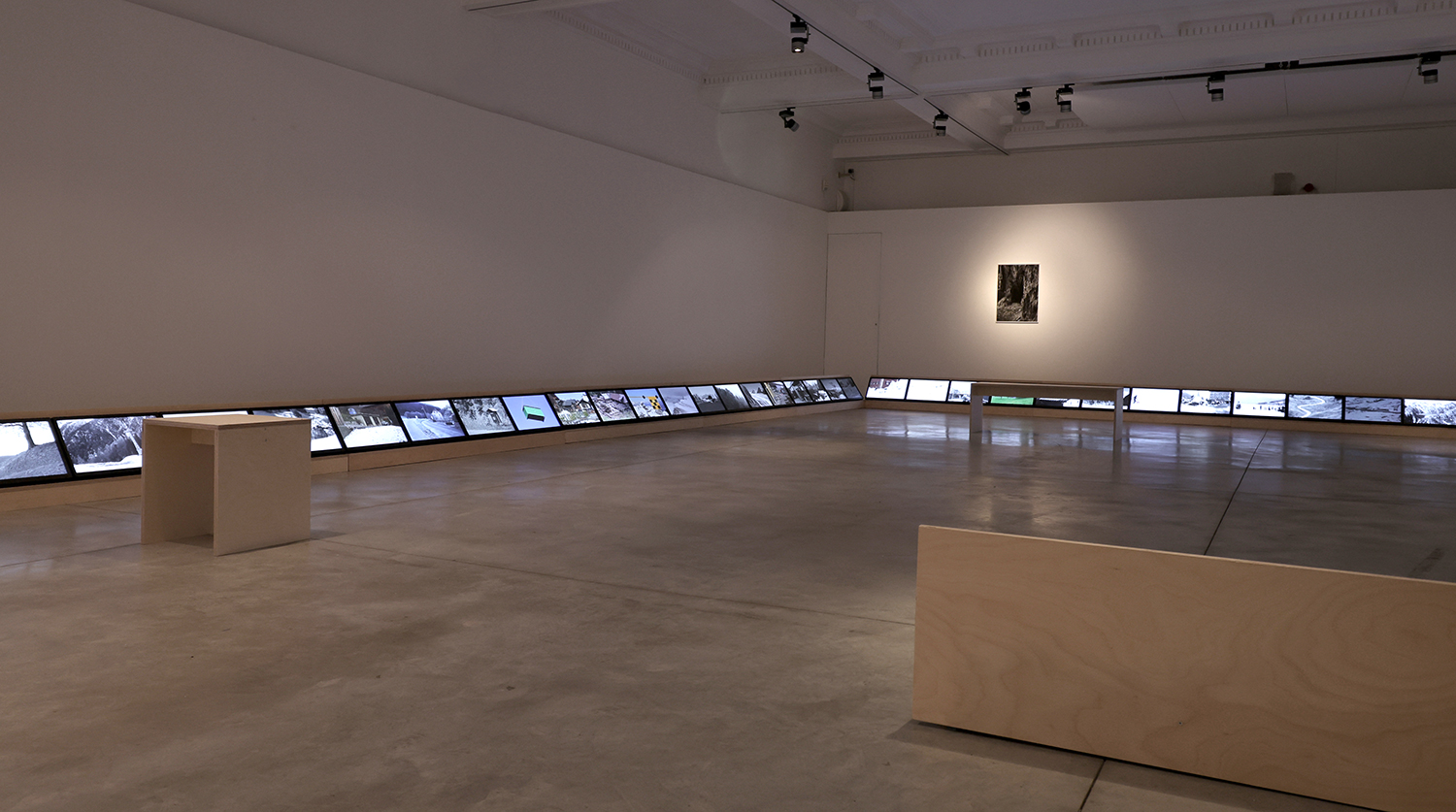 Portrait of a Landscape, solo exhibtion - Le Botanique, (Brussels 2022)
Following the Belgian project Lieux Communs - Gemeenplaatsen, I chose to focus on Switzerland. It was not only my origins that guided this choice. The mental image we form of this country is fascinating, abusively picturesque. I considered that it would be a very exciting challenge to give an image of the country as a whole. In this case, what was interesting was to see how the relief intervenes in the understanding of the landscape. From below, the mountain is a screen. But once overcome, the mountain makes it possible to reconnect the vision of discontinuous spaces.

For several years, I crossed the country on 10 straight lines in order to identify all the possible variations: typologies, uses, altitudes, effects of seasons and weather changes,... Throughout these 2637km of crossings, I made a fixed video shot of one minute every kilometre. In this way, I no longer had any control over the places visited or the subjects to be filmed.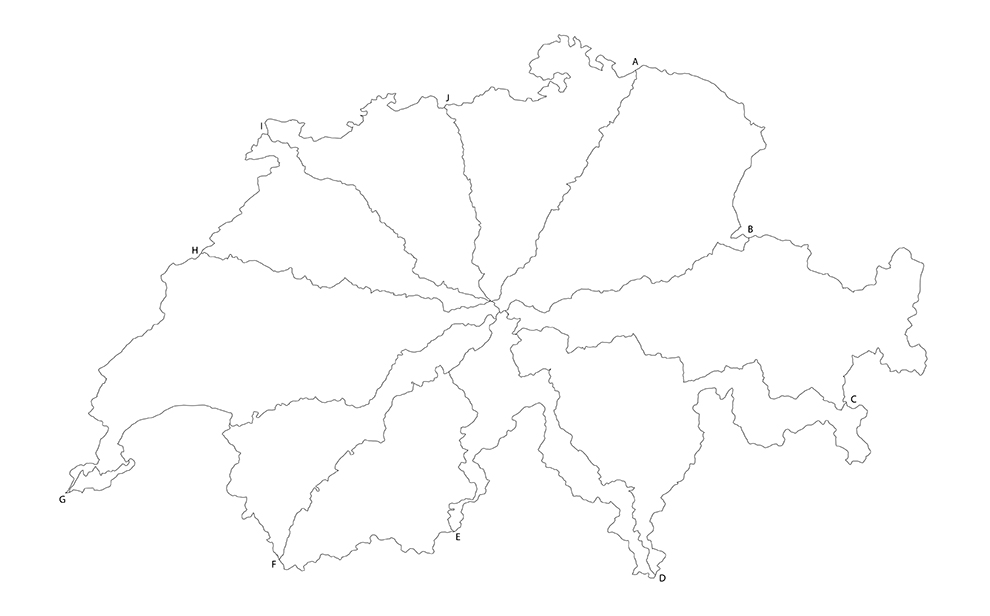 10 different paths through the country.
Portrait of a Landscape is a work that focuses more on phenomenology than on the many subjects it covers. It is the notion of Sublime that is treated here. How can we form the mental image of such a complex environment ? The whole video footage is described and archived in a huge database. Then, an algorithm system considers different parameters (altitudes, seasons, location,...) and generates the content of each screen, like a score for an orchestra. At any given moment, the video installation gives the viewer a sum of images representative of the complexity of the country. The images presented disorientate the views as he must position himself, find the good distance, face his own limits. And in the images also, there is a great variation in viewpoints and scales. The work is part of a conceptual tradition, but also sets the stage for a subjective relationship with the world.



Portrait of a Landscape solo in la Ferme-Asile (2018) / solo in S AM Basel (2018), exhibition in la Ferme-Asile (Sion), April 2018
installation view, Kunstraum Kreuzlingen (CH) (2020)


Production: UMLAUT asbl (BE) / la Ferme-Asile (Sion)
Coproduction: SAM Basel / Biennale d'Enghien (BE) / Wandering Art Biennial (BE)
With the support of: Volkart Stiftung (CH) / Pro Helvetia / la Fédération Wallonie Bruxelles (Arts Numériques) / Wallonie Bruxelles International
Created within the context of artist residencies: Chretzeturm (Stein am Rhein) / Altes Spital (Solothurn) / La Ferme Asile (Sion) / ARC (Romainmôtier) / la Villa Ruffieux (Sierre)
Thanks to Swisstopo / the couchsurfing platform