Hommage to Paul Cézanne
[ 2008 & 2012 ] 2 original pigment prints : the reproduction of Cézanne's Portrait of Ambroize Vollard, reproduction of 115 filled sudoku grids (198x40,5cm)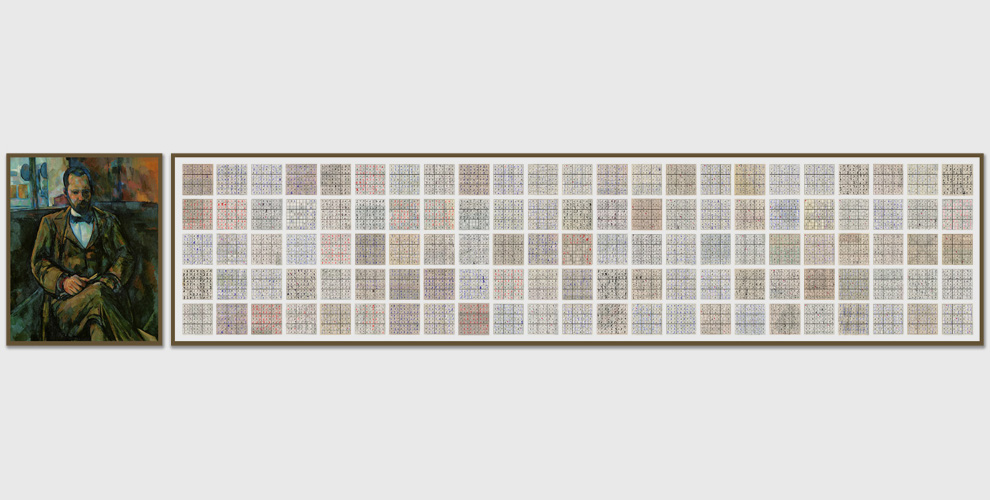 diptych : Hommage to Cézanne
In 1899, Paul Cézanne received a major order, to paint the portrait of Ambroise Vollard, one of the most important dealers in French contemporary art at the beginning of the twentieth century. He is credited with providing exposure and emotional support to numerous notable artists, including Manet, Renoir and van Gogh. Paul Cézanne was quite impressed by this challenge and wanted to get the finest results, and maybe even launch his career.

Ambroise Vollard came 115 times to Cézanne atelier and accepted to strike the pose for about three hours each time. Cézanne's method was slow and demanding; the color scheme was complex and required reminders and oppositions over the entire surface of the painting.

Playing the sudoku is a good transposition of this process, even if colours are replaced by numbers. When we take a look at Vollard's attitude in the painting, we could think he has a small notebook in his hands. And isn't Ambroise Vollard more used to play with numbers and amounts than with colours?



Detail of the work