Schwizerdütsch for beginners
[ 2012 ] transformed medical optometric box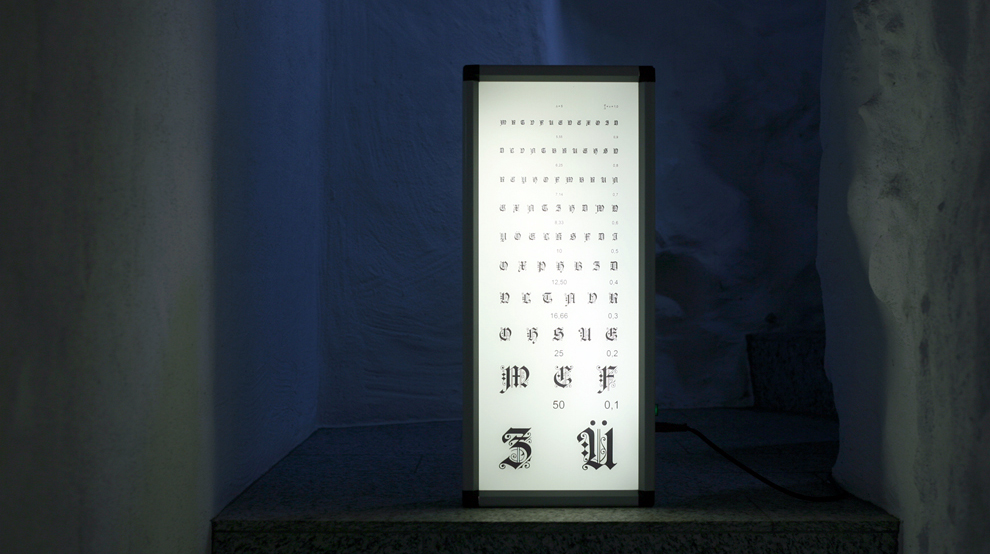 Schwizerdütsch for beginners
Coming from Olten, my family used to speak Swiss German. After they moved to Brussels, they naturally switched to French, but the older generation still understands - and sometimes speaks - Schwizerdütsch.

I was only used to hear this language regularly, not to speak it. But when I came to Stein am Rhein for my first artist residence in 2012, I needed to interact with people that, for the great majority, were able to speak or understand Swiss German (only). Making the first contacts, having conversations with journalists was a real challenge; I was like a pantomim.

This piece is a kind of humoristic reaction of my observations in the Northern part of Switzerland. I rapidly noticed that, like in Germany, gothic fonts still remained popular. I found it quite interesting to realize that Switzerland actually invented, through the long graphic experiments of Max Miedinger and Eduard Hoffmann in the late fifties, a legendary font, sans serif, the Helvetica, reputed to be the most readable one. I wondered about the strong attachment to gothic letter type...